About Us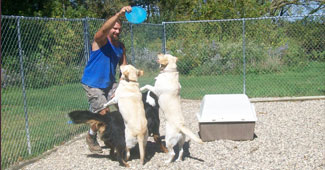 The canine country club is located in the beautiful rural setting of Elko. Our home is open to our guests 365 days a year. Our office is open 7 days a week form 8am to 6pm with our guests having the luxury of dropping or picking up their pet in that large time frame. We have divided the space into 4 different wings to better serve our guests.
Your pet is always supervised when playing with other dogs. We take pride in matching up personalities. We keep track of your pets playmates. We make sure your pet is playing with neutered/spayed pals. Tennis balls, frisbees, and jollyballs are provided for outdoor fun.
We have built this family business off referrals from happy customers and over 40 vets whom have trusted our facility over the years! We have a 24/7 monitoring camera system so your pet can be watched around the clock. Our goal is to make their stay comfortable, safe, and fun, so you can enjoy your time away from them...worry free.